The best sous vide device under $100
Jun 16,2022 | Sharon
What are your considerations when choosing a sous vide cooker? Performance, durability, price, or appearance? This article will introduce you to the best sous vide cooker under $100 from 8 aspects.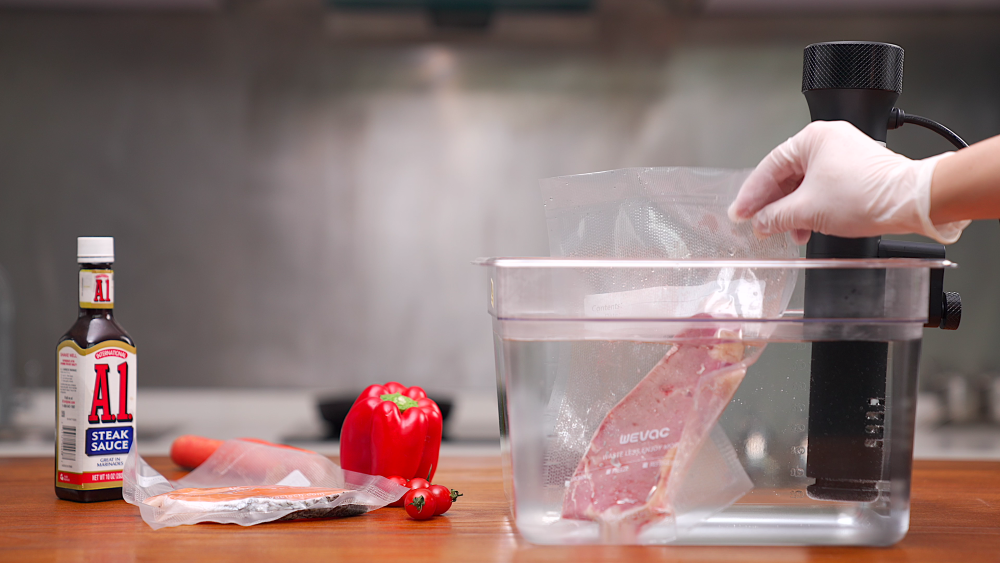 Size
As a new addition to your kitchen, it shouldn't take up too much space. Wevac SV80 is designed slim and elegant, and small enough to fit easily in a drawer. With a size of only 2.84 x 4.79 x 13 inches (72X122X330 mm) and a weight of 1.74 pounds (0.79 kg), you can even operate it with one hand effortlessly.
Power
Although tiny in size, Wevac SV80 is mighty enough. The 900 watts of power allows this machine to heat huge volumes of water quickly, decreasing your waiting time. Furthermore, a powerful water-circulating pump capable of pumping water at a rate of 6 L/Min ensures that the water is heated evenly.
Temperature range
More diverse sous vide meals can be made with broader temperature and duration setting options. The Wevac SV80 supports a wide temperature range of 41 - 194 °F (5 - 90 °C) and a time flexibility of 5 min - 99 hrs 59min.
Temperature accuracy
Precise temperature control is the key to sous vide cooking. Unlike some low-end sous vide devices, the Wevac SV80 employs unique heating control technology to ensure temperature precision through software control and hardware modification, with an error range of roughly 0.1°.
Water capacity
A sous vide container typically has a volume of around 12 quarts (11L), while the Wevac SV80 can heat more than 5 gallons of water (about 20L), covering a wide range of container sizes and meeting the demands of the majority of customers.
Material
Despite being aimed at home consumers, most sous vide cookers on the market have an industrial look with their plastic and stainless steel body design. The Wevac SV80 is made from PPO, an ecologically friendly material that is RoHS and REACH certified, and the unibody design adds a modern and technical touch to your kitchen.
Connectivity
Although a Wi-Fi connection is not necessary, it is still more convenient to control the temperature and time with the mobile app than on the physical unit. What's more, there are many recipes on the connected app for your reference, and you can also create your favorite recipes and send them to the machine. All in all, having app control will also make your cooking process much easier and more fun, which is why Wevac SV80 included it.
Silence
Most sous vide devices make annoying noises when heating. Still, Wevac, as a manufacturer of vacuum technology products for over fifteen years, understands the pain points of the products, so we made the quietest sous vide cooker, which produces much less sound than the background noise in the room when it is operating.
Get WEVAC SV80: https://www.wevactech.com/products/sv80-sous-vide-cooker
Comment