Sous vide cooker buying guide
Jun 13,2022 | Sharon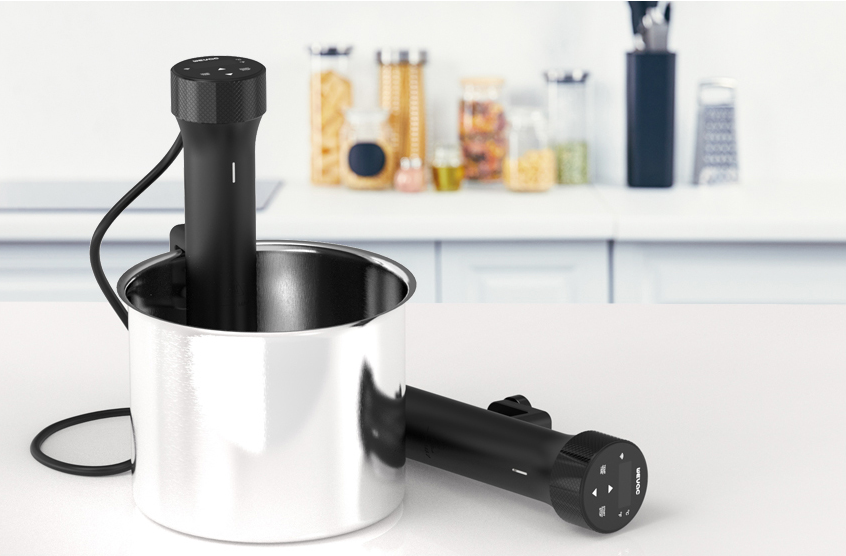 Previously, sous vide was a technique available only to professional chefs. But now, if you're new to the method, you don't even need to spend a lot of money to get started. As sous vide becomes popular, more and more domestic immersion circulators have been manufactured and sold at lower prices. You can now find a top-of-the-line sous vide cooker for less than $100. Still, it is not that easy to make the right choice among numerous products. This article summarizes some of the factors to consider and tries to teach you how to make the best choice.
1. Form factor
There are basically two types of sous vide machines: sous vide baths and immersion circulators. Sous vide baths (water ovens) come with a container, and they are much more expensive than immersion circulators and take more space in your kitchen. So, an easy-to-store and budget-priced immersion circulator may be a better choice. Easy control is another benefit of the immersion circulator. It often features a cylinder body, a touch panel on top, and Wi-Fi connection, allowing you to operate it effortlessly with one hand. Still, not all immersion circulators have these advantages, and you need to compare them carefully when selecting similar products.
2. Power measured in wattage
Wattage is the unit of measurement for the power of a sous vide cooker. It shows how powerful a sous vide machine is and how quickly it can achieve the temperature you want. Higher wattage machines heat up water faster, therefore the cooking process takes less time. The majority of devices on the market range between 800 and 1100 watts. Of course, higher power is not always better; it will cost you more money on your electricity bill and will cause the water to evaporate quicker.
3. Temperature accuracy
The precision of cooking temperature is an important factor that distinguishes sous vide cookers from other cooking devices. So, when purchasing a sous vide cooker, it is necessary to select one with higher precision. The difference between one or two degrees might be significant, especially when it comes to sous vide eggs or fish. Some low-end machines may allow only one degree of adjustment, while a high-quality sous vide cooker can be accurate to 0.1 degree.
4. Noise issue
A good sous vide machine should optimize one's cooking experience, and the noise issue would be my top consideration. After all, no one likes the buzzing lasting for nearly half an hour, especially when you have a baby.
With the above considerations in mind, I recommend Wevac SV80, one of the best value sous vide cookers under $100. It has a sleek appearance, an easy-to-use design, and is light in weight. Its excellent performance is ensured by 900w of power and 0.1° of temperature accuracy. The noise level is even lower than the background sound in the room, and there are myriad recipes in the app to make your cooking process more enjoyable!
Comment